As a member of Business2Blogger, I was given the opportunity to review a piece of jewelry from OwlEyesCollection.  I was given a choice between a few different pieces.  I chose this beautiful turquoise and silver bracelet, which costs just $10!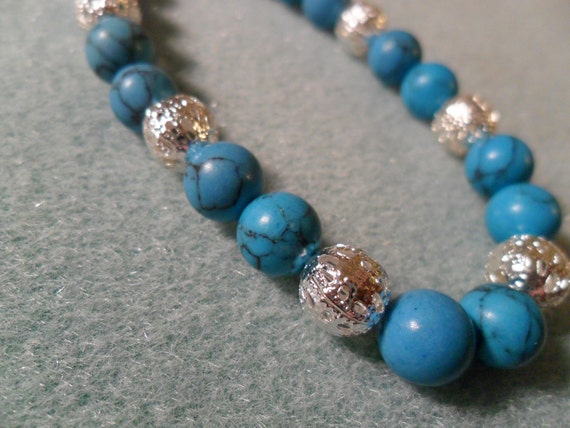 My new bracelet came quicker than I expected, ( I thought it would take a long time, because each piece is made by hand).  It arrived, very adequately packaged, in a gorgeous little gold mesh drawstring bag.  The personalized care that is put into each package is very evident and much appreciated.  I order a good bit of stuff online, and rarely, do I see any sign of a human putting together my order...much less one that (obviously) loves what she does.
I mentioned the packaging because of another product I'm supposed to write about from someone else, that arrived broken because of inappropriate packaging...but that's a whole other review.
The bracelet fit perfectly, and was more stunningly beautiful than the picture had suggested.  She said to pick my size and that she usually makes them 7 inches.  I measured my wrist and 7 inches was perfect.  It was stretchy, but not too stretchy.  I've had problems like that with other beaded bracelets before.
I loved my bracelet and I wore it everywhere...that is...until I broke it.  One of the little silver balls got squashed somehow and it cut the string, so I know have a bunch of really pretty beads that I need to restring.  I do have to say, that for someone who is not as hard on jewelry as I am, this bracelet probably would have lasted considerably longer.  It really is surprisingly sturdy.
The site has a nice variety of earrings, rings, bracelets and necklaces...all at wonderfully reasonable prices.  I wanted so many more things from OwlEyesCollection and plan on getting some of them soon.
The shop owner was an absolute pleasure to work with.  She was very nice, patient, understanding and prompt...Everything (and more) that you could want from customer service of any kind.
Ya'll watch for an update to this review...There'll be a giveaway added soon!

Categories: Reviews, From Me to You, Oct. 2011