Shopping Cart
Your Cart is Empty
There was an error with PayPal
Click here to try again
Thank you for your business!
You should be receiving an order confirmation from Paypal shortly.
Exit Shopping Cart
2 Broke Girls

I'm going start this post off with my own "Broke Girl" story.  I won't bore you with the circumstances that led up to this situation, because I know money is tight everywhere and after hearing so many situations about people being broke, they all just kind of sound the same.  So, the jist of it, was that we needed to come up with $600 from nowhere, in about a week.  
Now, when someone in my household says they don't have any money, it actually does mean that there is no money.  That means that the couch has been cleaned out, the car has been checked, the bank has a balance of zero, etc.. 
We ended up resorting to Craigslist to try and make $600.  We don't have extra stuff that we could sell, so we had to break into my husband's comic collection.  We also sold our bike, my necklaces, a ring (that I loved), my psp and the games, some computer games, and some of my kids' clothes that didn't quite fit anymore. 
We did end up making it to $600, but not before we borrowed about $200 from our friend/housemate.  It was incredibly embarrasing and hugely depressing.  We loved our stuff and had, of course, worked hard to aquire those things.  But when the bills call and you don't have money, you do what you have to.  We'll get those things again sometime...hopefully.  The bill was paid on time, though.
Stories like this are a good reason why I love the show, 2 Broke Girls.  It is hilarious and completely relatable for our family.  2 Broke Girls has recently changed to a new time!  The new time is on Mondays at 8:30 PM/7:30 CST on CBS! 
You can also check it out on CBS!  Just go on over to watch some episodes, previews and clips. 
While you're at it, you can also watch the preview for the latest eposide.  It's pretty funny...I laughed quite a bit.  I can't wait to watch it on TV.
I tried to embed the video onto this post, but for some reason, it wouldn't publish correctly, so you'll just need to click on the link to watch it.

ABOUT 2 BROKE GIRLS
2 BROKE GIRLS is a comedy about the unlikely friendship that develops between two very different young women who meet waitressing at a diner in trendy Williamsburg, Brooklyn, and form a bond over their dream of one day owning their own successful cupcake business.  Only one thing stands in their way – they're broke.  Sarcastic, street-smart Max Black met the sophisticated, school-smart Caroline Channing when the uptown trust fund princess was having a run of bad luck due to her father's Wall Street scandal, which caused her to lose all her money and forced her to give waitressing a shot.  At first, Max sees Caroline as an entitled rich girl, but she's surprised to find that Caroline has as much substance as she does style. When Caroline discovers Max's knack for baking amazing cupcakes, she visualizes a lucrative future for them and they begin to save money to reach their start-up money goal of $250,000.  As the girls' cupcake tally expands week-to-week, they become closer to their goal and to each other.  At the diner they are surrounded by their offbeat, colorful "work family": Oleg, an overly flirtatious cook; Earl, a hip 75-year-old cashier; Han, the eager-to-please owner of the diner; and Sophie, the girls' outrageous upstairs neighbor. As Max and Caroline climb toward their goal, we see that their "smarts" plus their "hearts" might just be the recipe for success.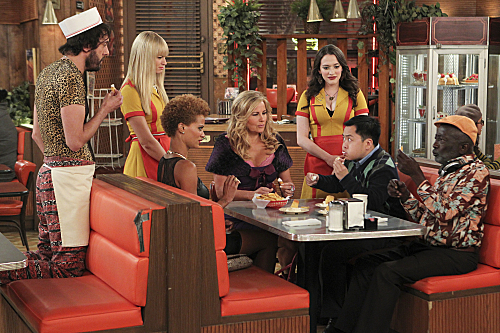 I love this show and try not to miss an episode!




What funny stories do you have about making it through a tough time?  I would love to hear them!







Disclosure:  This post was sponsored by the Role Mommy Writer's Network.
















Categories: From Me to You, Oct. 2013

0

/