Shopping Cart
Your Cart is Empty
There was an error with PayPal
Click here to try again
Thank you for your business!
You should be receiving an order confirmation from Paypal shortly.
Exit Shopping Cart

This is a sponsored post written by me on behalf of My Dolphin Show.
As a member of the SITS Girls, I was given a wonderful opportunity to test out an app called My Dolphin Show.   It's a free app available for download on a variety of operating systems.  I downloaded it on my Kindle Fire.
My Dolphin Show is wonderful for my kids!  It's no mystery as to why there's been over 2 million installs already!  My kids love it!  I showed them that I had downloaded My Dolphin Show and asked if they would like to play it for a while.  4 hours and a dead battery on my Kindle Fire later, they told me that they loved it.  They loved that the set up was kind of like Angry Birds.  I looked at it to see what they meant.  I immediately understood.  The navigation screens are just like Angry Birds, which is great because they already knew how to get around the different starting screens.
They also loved the gameplay.  They like that they get to make the dolphin jump to get the balls (that's how you pass the level).  They were so excited to see that you get to feed it fish too.  My oldest daughter said, "I've aways wanted to feed some fish to a dolphin".  She also suggested that the family could maybe get a dolphin and teach it tricks like the one in the game...Hahaha!  I guess it may be time to plan a trip to Seaworld?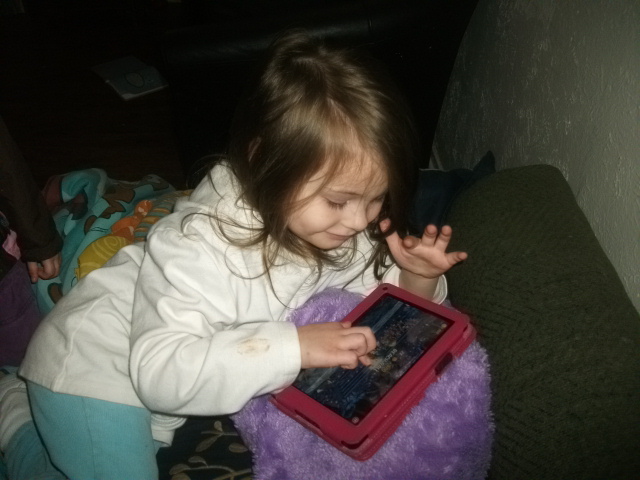 They ask to play this game on the Kindle Fire everyday now.  I have to limit them, because they'll just continue playing until my battery is dead.  They loved the costumes that you can buy for the dolphin with the coins you gain from finishing the levels.  Once the princess dress was available, they got it and never looked back!  I tried explaining that the other costumes offer small advantages to the speed and skill of the dolphin, but they don't care.  They argue that the princess dress looks so much prettier. Ah...my little fashionistas!




 

You can even upgrade to other creatures besides the dolphin, though we haven't tried that yet.




 

I love that there's no in-app advertising, so it's a kid-friendly app.  They can play without me worrying about them clicking on ad and potentially buying something. I also set my parental controls with amazon, so that they can't buy in-game extras.  That really goes a long way with freeing up my time while they are playing on my kindle.  I can actually get some work done now!










 


My Dolphin Show is a fun, FREE app in which you get to swim, play and perform tricks like a real dolphin! Over time, your dolphin will complete different tricks that increase in difficulty, allowing you to gain more points as the game continues. As a kid-friendly app, you can play along with your children and share quality bonding time in an entertaining and safe way.




Download the app now from the Apple App Store, Google Play and Amazon using the following links:




App Store: http://spil.com/mdsprios

Google Play: http://spil.com/mdsprgp

Amazon: http://spil.com/mdspraa




This is a sponsored post written by me on behalf of My Dolphin Show.







 




Categories: Reviews, From Me to You, Oct. 2013

0

/